Basic Information
 
Best National Pageants offers FANTASTIC 'Natural' & 'Semi to Full Glitz' Pageants & Talent Competitions for girls and boys, between the ages of 12 months and 15 years. Every contestant will go home with a crown, sash, and gift! Every contestant even has a chance to win Division/Special/Supreme titles that could mean special crowns & maybe even cash prizes. $$$The 'Ultimate Grand Supreme Pageant Winner' of the Pageant will take home between $500.00 - 1,000.00 CASH!! The 'Ultimate Grand Supreme Talent Winner' of the Pageant will take home between $250.00-750.00 CASH!! $$$ Several different pageant packages are available - from Talent & Photogenic Only to our All-Inclusive Packages (including the option to add on a hair/makeup artist that you can pay for at the pageant), it's your choice how you'd like to enter the competition!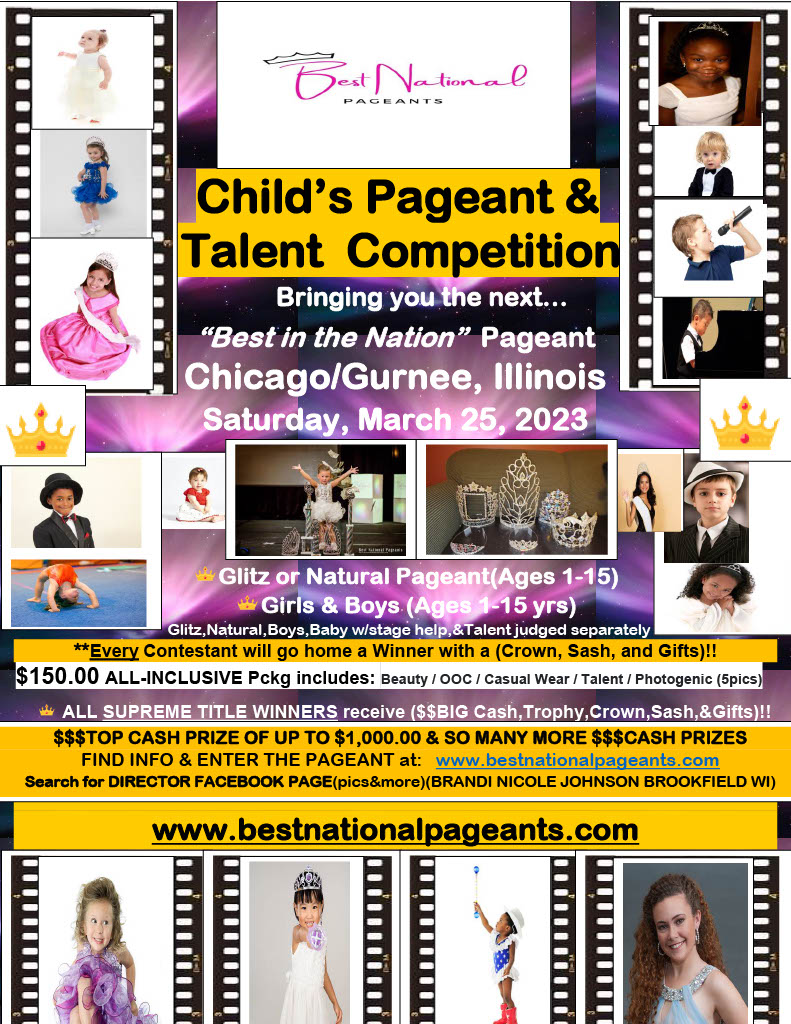 **Parents/Guardian(s)/Vendors...we DO NOT have a pageant hotel room block available for the pageant at this time. You'll have to book directly through the hotel or through an online travel site to reserve your room(s)(ex., expedia, booking.com, etc.). We'll update all entrants immediately should this change.
---
Competition Category Age Groups:
12-23 months
2-3 years
4-5 years
6-7 years
8-10 years
11-12 years
13-15 years
The pageant WILL NOT allow any age fallbacks. Please enter your child in the age group they will be in on the day of the pageant. Any Baby Contestant that must be accompanied on stage, will only qualify for the Baby w/stage help Supreme & Non-Supreme titles. Any Baby contestant w/stage help WILL NOT qualify for the Overall Pageant Ultimate Grand Supreme Title! These contestants will only qualify for the Baby Ultimate Grand Supreme Title, that will be awarded to the Baby Contestant w/stage help that receives the Overall Highest Score in that group. Baby Contestants that must be accompanied by an adult on stage WILL NOT qualify for any other Supreme Titles/awards).
---